Posted on the Disney Parks Blog on November 4th, 2013 by Pam Brandon, Disney Parks Food Writer
If there wasn't a little "GF" symbol, you'd never guess that much of the new menu for Splitsville Luxury Lanes at Downtown Disney is gluten-free.  "We considered a separate menu, but decided to integrate the gluten-free dishes into the regular menu," says Splitsville co-founder Mark Gibson."So many of our guests are eating gluten-free these days, we wanted our featured "GF" items to have great flavor and appeal – we didn't want to simply reconstruct existing dishes."
So Chef Patrick Steele set to work, creating menu additions that, while gluten-free, are also quite tasty. The biggest hits are the generous rice bowls: fiesta chicken, steak fajita, Asian shrimp and spicy veggie, all full of flavor and served with sticky rice. But it may be the gluten-free pizza crust that is the best surprise, a crunchy, thin crust topped with mozzarella and fresh tomato sauce, and you can pile on your choice of "GF" toppings. You'll never miss the wheat flour.
And while sushi is generally a safe zone, some sauces and ingredients aren't gluten-free, like Kani Kama krab, a favorite white fish mix that contains wheat. Splitsville has added gluten-free sushi rolls – our favorite was The Alberto with no rice, just lean spicy tuna and avocado rolled in thinly sliced cucumber and served with lemon ponzu sauce.
Gluten-free appetizers include Blazing Chicken (tenderloins in spicy Buffalo sauce), steamed edamame and seared ahi tuna, which also is served as a salad with spring mix and Asian pear dressing. A gluten-free turkey BLT salad is another winner, a bowl full of roasted turkey, lettuce, avocado, tomatoes, bacon, red onion and blue cheese. Entrees include blackened mahi mahi with spicy voodoo shrimp and grilled salmon with mango chutney, fresh broccoli and sushi rice.
"We're amazed how many guests are eating gluten free," says Gibson, "it's now regarded as a better-for-you choice rather than just an option for those with gluten intolerance, and we wanted our menu to reflect this dietary trend with diversity and flavor."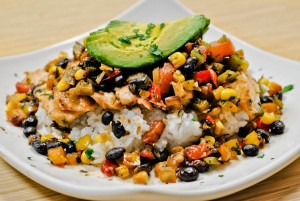 Dishes include: Spicy Veggie Rice Bowl, Steak Fajita Rice Bowl, The Alberto Roll, Ahi Tuna Salad, Fiesta Chicken Rice Bowl (pictured), Fantasy Roll, Gluten-Free Pizza, Asian Shrimp Rice Bowl, Spicy Tuna Roll and more..
Splitsville is located at 1494 E Buena Vista Dr  Lake Buena Vista, FL 32830
Their complete menu can be found online at: http://www.splitsvillelanes.com/location/orlando/#menu